8 / 8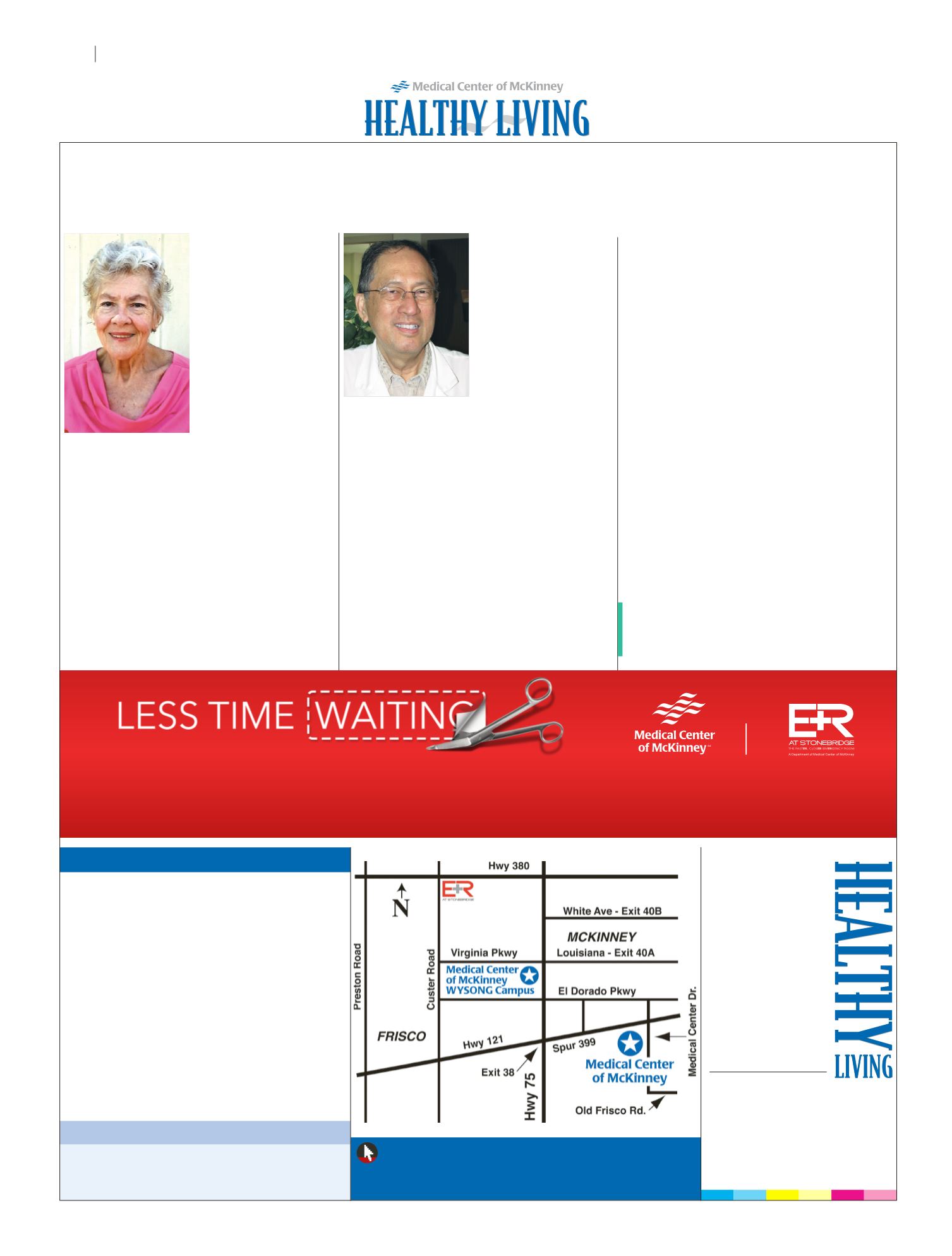 EXPERIENCING A BAD
FALL
falls into a certain
category: It's one of those
things you don't give much
thought to or how it will af-
fect your daily life—until it
happens to you.
Judith Price, age 77, can
relate. This past Fourth of
July offered her no cause
for celebration, but rather
a nasty fall and an ensuing
trip to a nearby emergency
department facility. After an
x-ray examination, it was
determined Price's left leg had endured a contusion. Yet,
several days later, it was clear this diagnosis didn't have
a leg to stand on.
"Ever since I'd been back at home, I'd actually been
using a walker because my leg hurt so badly," Price says.
"One day I turned around and slightly twisted my leg.
All of a sudden I heard a 'pop' and was in intense pain."
Thankfully, this time around Price ended up at the
emergency department at Medical Center of McKinney
(MCM). "It took them no time at all to determine that
my leg was broken in the mid-shaft femur area," she
says. "I was shocked because I had never broken a bone
in my entire life! I had always been very active and grew
HEALTHY LIVING is published
as a community service
for the friends and patrons of MEDICAL
CENTER OF MCKINNEY, 4500 Medical
Center Dr., McKinney, TX 75069,
telephone
972-547-8000
,
www.medicalcenterofmckinney.com
.
Ernest C. Lynch III, FACHE
Chief Executive Officer
Will Windham
Chief Operating Officer
Kim Hatchel, RN
Chief Nursing Officer
Aaron Rowe
Chief Financial Officer
Sally Huggins
VP, Marketing and
Business Development
Information in HEALTHY LIVING
comes from a wide range of medical
experts. If you have any concerns
or questions about specific content
that may affect your health, please
contact your health care provider.
Models may be used in photos and
illustrations.
2015 © Coffey Communications, Inc.
All rights reserved.
HST31673
FALL
2015
Need a doctor?
Call our Physician Referral Line
at 855-296-6265, Monday to Friday, 8 a.m. to 7 p.m., or
check out our "Find a Doctor" section on our website.
MEDICAL CENTER OF MCKINNEY
Main Campus
4500 Medical Center Drive
(Highways 75 and 121)
Main. ............ 972-547-8000
Metro. ........... 972-569-8000
Billing............ 866-656-8784
Scheduling....... 972-758-6200
McKinney Senior Health Clinic
4201 Medical Center Drive,
Suite 300
Main. ............ 214-544-2828
Medical Office Building
4510 Medical Center Drive
(next to hospital)
Outpatient
Therapy........ 972-547-8081
Medical Center of McKinney–
Wysong Campus
120 and 130 Central
Expressway
Main. ............ 972-548-5300
Psychiatric
Services....... 972-547-8888
Medical Arts Imaging
4201 Medical Center Drive,
Suite 100
Main. ............ 972-540-4200
Solis Mammography
................ 866-717-2551
ER at Stonebridge
Highway 380 and Custer Road
................... 469-408-1400
FOLLOW US ONLINE
Looking for the latest news about Medical Center of
McKinney? Visit
www.medicalcenterofmckinney.com
and look for the Facebook, YouTube and Twitter links.
8
W W W. M E D I C A L C E N T E R O F M C K I N N E Y. C O M
|
F A L L 2 0 1 5
H E A L T H Y
L I V I N G
up enjoying horseback rid-
ing and all sorts of other
activities. I had no idea a
broken leg would cause me
to become so incapacitated."
Following surgery, Price
was transferred to MCM's
inpatient rehabilitation unit,
where she remained for a
week. During this time and
once she was back at home,
physical and occupational
therapists and other rehab
staff members worked closely with Price to help her get
back on her feet again. The team essentially taught her
how to walk again, as well as how to stay safe and avoid
being a repeat offender.
"The biggest challenge for me has been learning to
make safe judgments," Price says. "It's been a total mindset
and lifestyle shift. But, it's something I've known all along
I must do in order to get my life back again."
THRILLED, AMAZED, FLOORED…BY MCM'S INPATIENT
REHABILITATION UNIT
As far as Price is concerned,
there simply aren't enough words to describe her enthu-
siasm for the MCM Rehab team.
"I was absolutely thrilled, amazed and floored by
them!" she says. "There wasn't an unhappy one in the
If you do fall, help is faster and
closer at the new ER at Stonebridge.
Eduardo Acosta, MD
Judith Price
bunch. I saw nothing but smiles. Everyone was very
experienced and knowledgeable. They did the best job
humanly possible and made me feel like I was the only
patient there. Thanks to MCM's marvelous Rehab team,
I'm gradually becoming more functional and independent.
They've been great at teaching me little 'safety-minded'
tricks of the trade."
BONES AND AGING
If you have never experienced a bad
break, chances are you've never really considered what
you can do to try to avoid one. And, truth be told, this
becomes even more important as we get on in years.
"There are a number of reasons why seniors tend to fall
more often than younger people, including osteoporosis
(brittle bones), inactivity and poor eyesight," says Eduardo
Acosta, MD, physical medicine and rehabilitation. "But
there are things we can do to help prevent falls, such as
getting plenty of exercise and consuming a healthy diet.
It's also helpful to make sure your environment is as safe
as possible. Make sure furniture, rugs and carpets are
arranged as safely as possible, and keep an eye on your
pets. Surprisingly enough, a dog or cat underfoot is the
reason for many falls."
FAST
E
R
TX.COM
Hwy 121 and Hwy 75 Hwy 380 and Custer Road
We're removing some of the pain from your next ER experience: the long wait time.
At
Medical Center of McKinney
, you'll find expert emergency medicine physicians
and nurses all focused on getting you from assessment to treatment and back to
your life faster. All that's missing is the long wait. But we don't think you'll miss it.
If you do fall, help is faster and
closer at the new ER at Stonebridge,
located at Highway 380 and Custer Road.
SENIORS AND FALLING
WHEN THE UNEXPECTED BEFALLS YOU