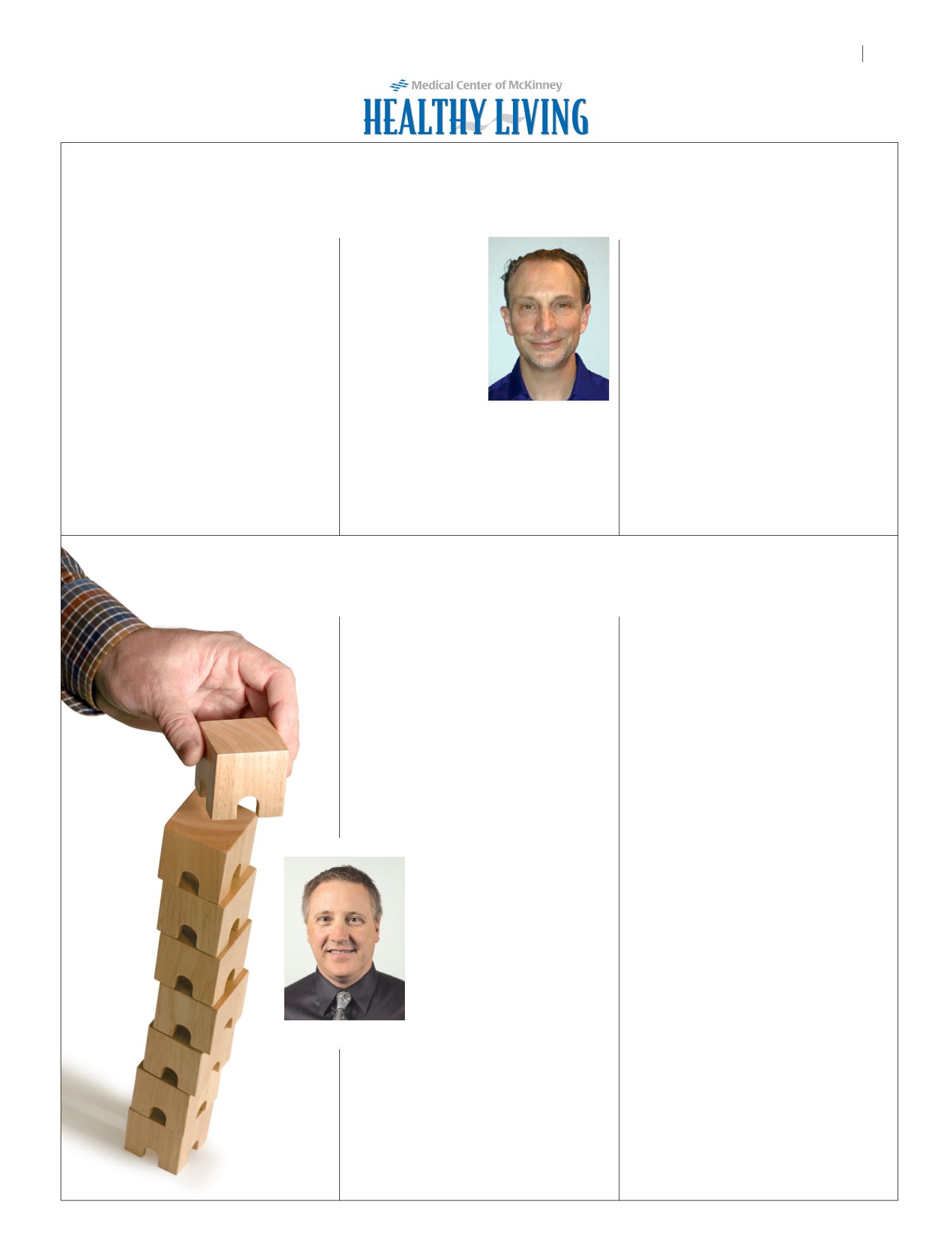 head injuries to complex
fractures to automobile ac-
cidents. As part of this des-
ignation, trauma surgeons,
as well as other physician
specialists, are required to
be available 24 hours a day.
"A key advantage of Med-
ical Center of McKinney's
recent designation is that it
clears the way for EMSA to
transport more patients to
our trauma center," Dr. Ad-
ams says. "And, so as a result, McKinney and northern
Collin County residents now have access to advanced
trauma care in their community."
TEAMWORK SAVES LIVES
MCM has a comprehensive
team of surgeons, specialists, nurses and staff members
WHEN MEDICAL CENTER OF MCKINNEY
(MCM)
was designated earlier this year as an Advanced Level III
Trauma Center, it was a clear signal of the hospital's on-
going commitment to quality trauma care.
"This designation speaks to Medical Center of McKin-
ney's accountability—as well as to the fact that we will
continually evaluate ourselves and improve on the desig-
nation process to ensure we provide outstanding trauma
care," says Mathis Adams, MD, FACS, Medical Center of
McKinney Trauma Medical Director.
MCM is the first hospital in McKinney and northern
Collin County to be designated as an Advanced Level III
Trauma Center by the Texas Department of State Health
Services. As an Advanced Level III Trauma Center, MCM
has specialized, dedicated resources available to manage
major and severe injuries.
The designation process ensures that proper proce-
dures, staffing and processes are in place to best care
for the most serious injuries, from gunshot wounds to
DUE TO NEWER TECHNIQUES
and advanced tech-
nologies that have been developed over the past several
years, spinal fusion surgery has become much less dis-
ruptive to the spine.
"We have been moving toward smaller, less invasive
spinal fusion procedures, which means shorter hospital
stays and faster recovery periods for patients," says Brent
Morgan, MD, board-certified neurological surgeon on staff
at Medical Center of McKinney. "Since the new fusion
technique is done through the patient's back, it causes
less harm to the normal spine."
THE ULTIMATE GOAL
When spinal fusion is performed,
the goal is to obtain a solid union between two or more
vertebrae. It is a surgical procedure performed to per-
manently join together one or more bony
vertebrae of the spine.
Fusing bones together can prevent
painful motion and provide stability. An
unstable spine can result from an injury,
disease or the natural aging process. When
these changes allow abnormal movement
of the vertebrae, back, leg or arm pain may
result. The goal of fusing the vertebrae is to
stabilize and align the spine, maintain the
normal disc space between the vertebrae,
and prevent further damage to your spinal
nerves and cord.
FOLLOWING SPINAL FUSION SURGERY
Following sur-
gery, patients are typically required to remain in the hos-
pital for a few days. Once discharged from the hospital,
activities are restricted for the following six weeks—for
example, activities involving excess lifting (anything over
5 pounds), bending or twisting are not allowed.
"At the two-month post-surgery mark, most pa-
tients begin a physical therapy program designed to
restrengthen their back muscles and enable them to
H E A L T H Y
L I V I N G
F A L L 2 0 1 5 | W W W. M E D I C A L C E N T E R O F M C K I N N E Y . C O M
7
ADVANCED LEVEL III TRAUMA CENTER
MCM OFFERS ADVANCED TRAUMA CARE
At MCM, trauma
surgeons and other
physician specialists are
available 24 hours a day.
Mathis Adams, MD, FACS
IS IT RIGHT FOR YOU?
gradually increase activities," Dr. Morgan says.
THE RIGHT REASONS
A spinal fusion should be per-
formed only for the right reasons and only if all other
treatments have been explored. It is important to un-
derstand it will not "fix" your back problem or provide
complete pain relief. It will, however, stop the motion in
the painful area of your spine, allowing you to increase
your function and return to a more normal lifestyle—
though one that may not be totally pain-free.
"Fusion surgery is designed for patients who have suf-
fered from intractable back pain for an extensive period
of time," Dr. Morgan says. "This surgery should only be
considered once all conservative measures and nonsur-
gical treatments have failed to provide significant back
pain or neck pain relief."
WAIT A SECOND!
Seeking a second opinion is a wise
move. Doing so means you are consulting with another
doctor to confirm a diagnosis and/or find possible dif-
ferent treatment choices available to you. It is highly
recommended to consider getting a second opinion
immediately to avoid delays in your treatment and
recovery.
Whether it is spinal fusion surgery or another type of
surgical procedure, second opinions are a way to learn
about your diagnosis and choices for treatment options.
You will likely discover that some doctors are more con-
servative, while others tend to be more aggressive.
"A good reason to get a second opinion regarding
spinal surgery is if it is recommended on the first visit,"
Dr. Morgan says. "Immediate surgery is rarely neces-
sary, except when something is obviously wrong, such as
paralysis, or in the event of an emergency or accidental
injury. Remember, you have rights—and one of the most
important rights is the ability to get a second opinion
about your diagnosis. Being informed is critical in decid-
ing your choice of treatment."
that receive specialized training in trauma care. The
hospital partners with local emergency medical services
personnel to provide education in caring for trauma pa-
tients in the field.
"Achieving the Advanced Level III Trauma Center des-
ignation has definitely been a hospitalwide, team effort,"
Dr. Adams says. "That collaboration—along with the guid-
ance and support of Medical Center of McKinney's Qual-
ity Department—has resulted in an outstanding trauma
program that will greatly benefit all patients seeking care."
SPINAL
FUSION
SURGERY
Brent Morgan, MD