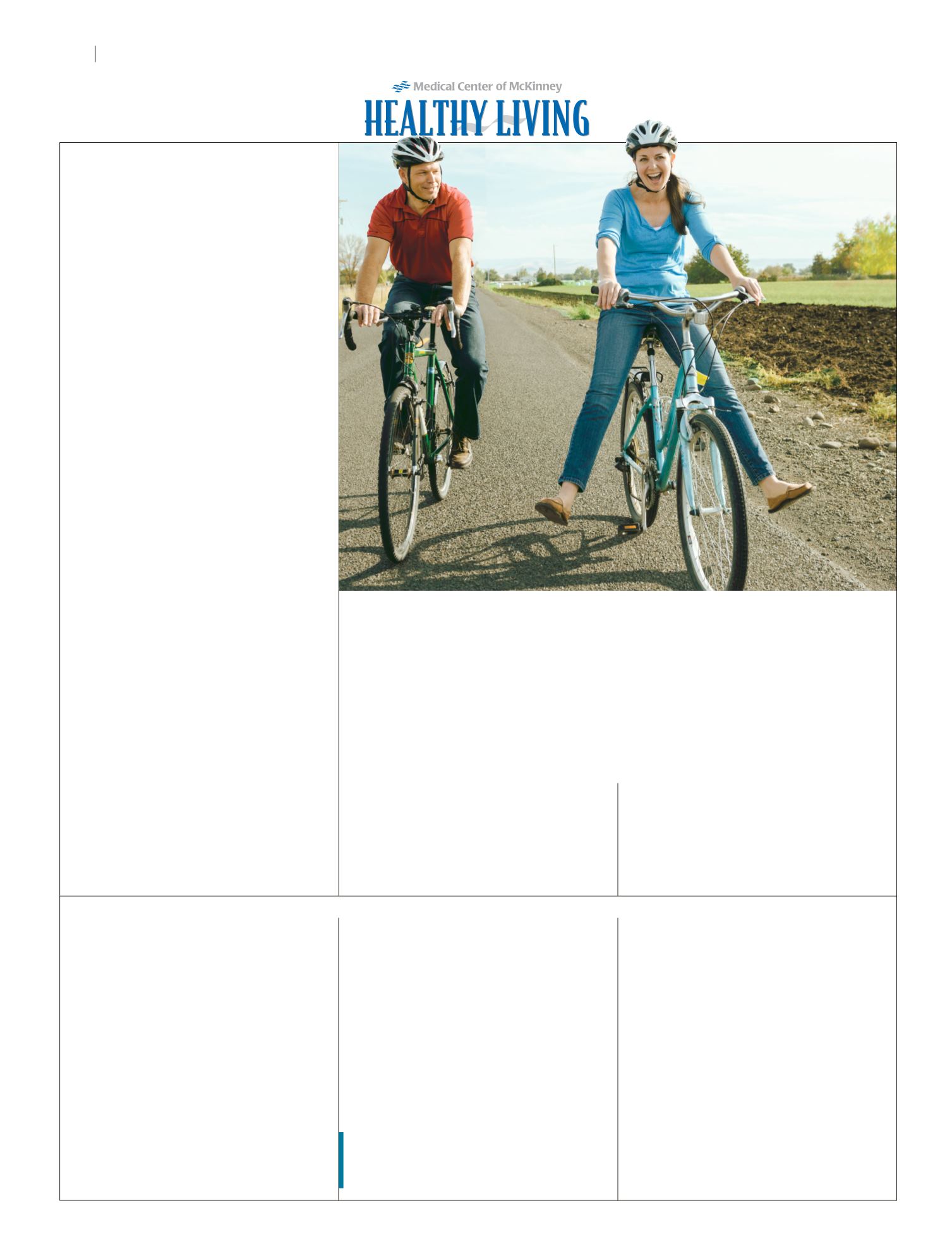 H E A L T H Y
L I V I N G
6
W W W. M E D I C A L C E N T E R O F M C K I N N E Y. C O M
|
F A L L 2 0 1 5
Don't forget to
schedule your yearly
mammogram. Call
XXX-XXX-XXXX.
Another reason
to stop smoking
Ladies, listen up if you're a smoker
nearing menopause. This may be the
motivation you've been waiting for if
you've had trouble giving up cigarettes.
Smoking, it turns out, speeds the
arrival of menopause—by as much as
two years in heavy smokers. What's
more, smokers are more likely to have
more frequent, severe hot flashes than
women who don't light up.
And then there's this: If you quit
before age 40, you'll lower your risk
for premature death. But even stop-
ping at a later age, you can still gain
back some years.
Are you psyched? Then try these
three tips to increase your chances of
becoming a successful quitter:
1
Reach out to your doctor.
He
or she can suggest the most effec-
tive medicines to help you become a
former smoker.
2
Find a quit buddy.
Ask a friend
or family member who also smokes to
stop smoking with you.
3
Create new habits.
Do things
that keep your hands busy, such as
gardening or knitting.
Sources: North American Menopause Society;
smokefree.gov
URINARY TRACT INFECTIONS
WHY IT HURTS
WHEN YOU GO
YOU'RE SITTING
on the toilet wondering: How is it
possible for pee to feel like fire? Just minutes after that
painful experience, you have an overwhelming urge to
dash back to the bathroom. When you get there, hardly
any urine comes out—but it still hurts!
WHAT'S GOING ON?
You may have a urinary tract in-
fection (UTI). These infections happen when bacteria
invade the urinary tract through the urethra—the short
tube that leads to the bladder.
Once inside, the bacteria can infect any part of the
urinary tract, including the urethra, bladder, ureters (the
tubes that carry urine from the kidneys to the bladder)
or kidneys.
A UTI can quickly become serious if it triggers a kid-
ney infection. That's why you should see your doctor right
away if you have symptoms of a UTI, which can include:
● 
●
Sharp pain or a burning feeling when urinating.
● 
●
A strong urge to urinate, often right after you just peed.
● 
●
Urine that has a strong odor, looks cloudy or has
blood in it.
Painful and bloody urine can be caused by other
problems, so your doctor will test your urine to make
a diagnosis. If the test shows you have a UTI, you'll get
a prescription for antibiotics. These medicines tend to
make women feel better rather quickly—usually in less
than two days. But even if you feel better, keep taking
your antibiotic. You must finish it all to make sure the
bacteria are destroyed.
POINTS FOR PREVENTION
To help prevent future UTIs,
you can:
● 
●
Drink plenty of fluids, like water, every day.
● 
●
Urinate every two to three hours—and never ignore
the urge to go.
● 
●
Wipe from front to back after you urinate or have a
bowel movement.
● 
●
Keep the skin around your genitals and anus clean.
● 
●
Wear underwear with a cotton crotch.
● 
●
Empty your bladder before and after sex.
Sources: American College of Obstetricians and Gynecologists; Office on Women's Health
PERIMENOPAUSE
ALMOST THERE
Learn what those early signs
and symptoms typically mean
IT'S A BIT
OF A SHOCK:
You've just had your first hot
flash.
"What's going on?" you ask yourself as you yank off
your sweater. "I can't be menopausal. I'm still having
periods."
Welcome to perimenopause—and a quick biology
lesson.
A TIME OF TRANSITION
Menopause is actually a point
in time. It's when a woman has gone through 12 consecu-
tive months without any periods.
Perimenopause is the phase leading up to menopause.
It's a transitional time of hormonal flux, when your
body starts making less of the hormones estrogen and
progesterone.
More to the point, at least for your comfort level, it's
also when most of the changes we usually attribute to
menopause occur—such as hot flashes (those infamous
surges of heat) and night sweats (sweating bouts intense
enough to disturb sleep).
Among the other tipoffs that you're in perimenopause:
● 
●
Irregular periods. They can be longer, shorter, heavier,
or lighter; come more often; or be skipped—as in here
one month, gone the next two and then back again. (An
important note: Even though your periods may be erratic,
you can still get pregnant.) Though changes in bleeding
are normal as you near menopause, you should still tell
your health care provider about them.
● 
●
Mood changes, memory lapses or poor concentration.
● 
●
Difficulty sleeping, including trouble falling or stay-
ing asleep.
● 
●
Vaginal dryness, which can make sex painful.
● 
●
Bladder problems, such as infections and urinary
incontinence.
● 
●
Weight changes, including gaining weight around
the waist.
IT'S PERSONAL
There's a lot of variability with
perimenopause.
Typically, it begins in your 40s and lasts for several
years, but there's no guarantee of this timetable. And the
changes you experience may vary from mild to severe.
What's certain is that perimenopause is a natural rite
of passage, and there's help if the changes are disruptive.
Talk to your health care provider for advice.
LOTS OF LIFE AHEAD
Maybe the best take on peri-
menopause is to think of it as a reminder to take care of
yourself. You still have a lot of living to do. And you want
the rest of your life to be a healthy one.
So be good to your body now—eat wisely, exercise
regularly, maintain a healthy weight, don't smoke (or
quit if you do), and see your doctor for recommended
checkups and health screenings.
Sources: American College of Obstetricians and Gynecologists; Office on Women's Health
Our gynecologists offer
compassionate care for women. For
an appointment, call 855-296-6265.