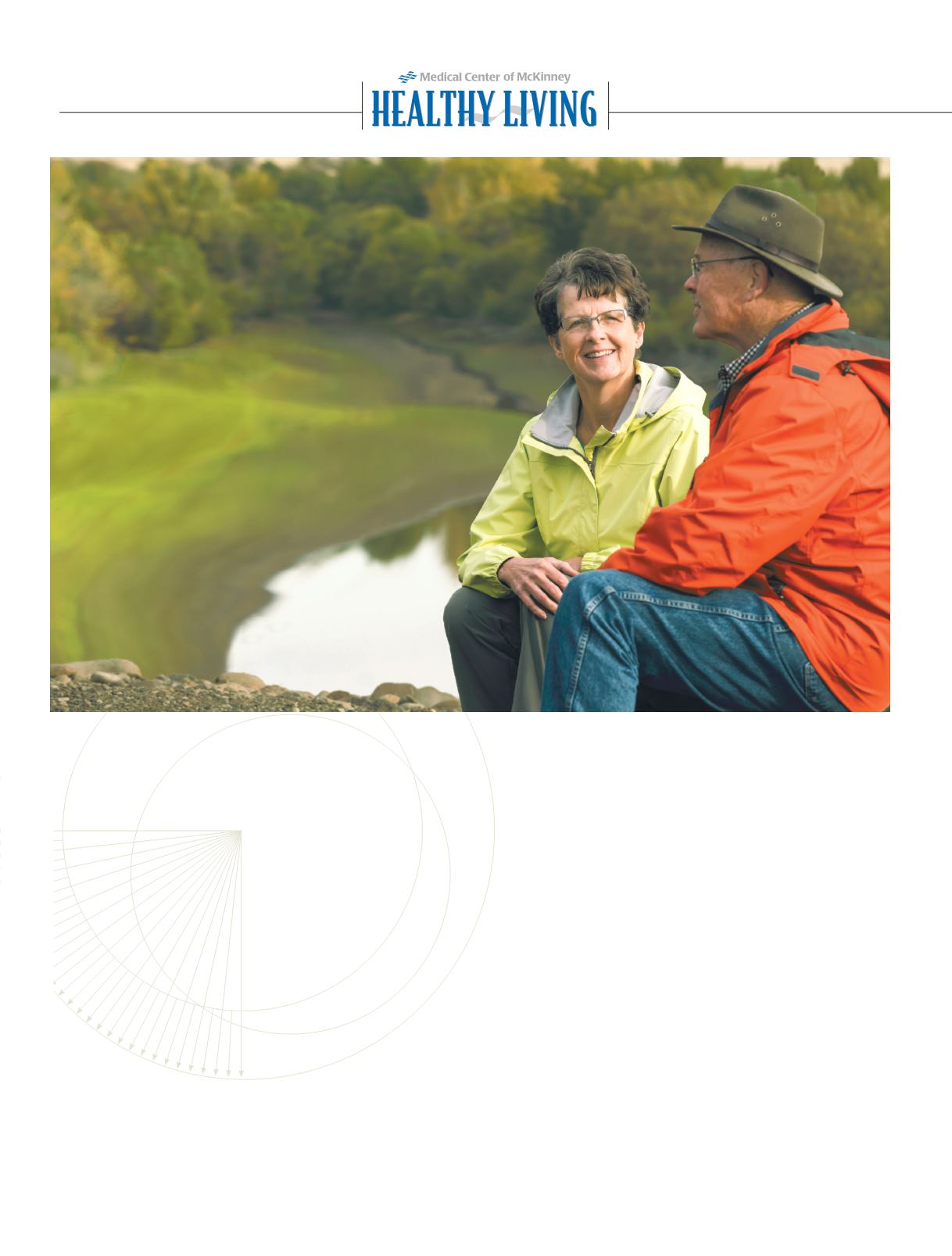 b
b
rejuvenation
joint
TOTAL JOINT
REPLACEMENT
CAN HELP
RESTORE YOUR
ACTIVE
LIFESTYLE
he path to an active lifestyle takes
many twists, turns and bends. To
successfully navigate that path,
you rely on your knees, hips,
shoulders, elbows and other joints.
✦
But the joints that enable you to
move can break down for many reasons, in-
cluding arthritis, injury, or even simple wear
and tear. Damaged joints can cause pain and
t
put your independence and activity in jeopardy.
When joint problems limit mobility and hinder
your lifestyle—and no other treatment seems to
help—your doctor may recommend total joint re-
placement surgery.
HOW IT'S DONE
A joint is where two or more bones
come together. For example, your knee is a hinged
joint formed by your shinbone, thighbone and knee-
cap. Your hip is a ball-and-socket joint—the ball is
the upper end of the thighbone, and the socket is
part of your pelvis.
A layer of cartilage covers the bone ends of a joint.
Normal cartilage allows your joints to move without
friction. But when joints are damaged or diseased,
they can become stiff and painful.
In total joint replacement surgery, parts of the
damaged joint are removed and replaced with arti-
ficial parts. Materials used in joint replacement—
such as metal, ceramic and plastic—are designed
to allow your new joint to move like a normal joint,
according to the American Academy of Orthopaedic
Surgeons (AAOS).
Joints that can be replaced include the shoulder,
finger, ankle and elbow, according to the National
Institutes of Health (NIH). But the most commonly
replaced joints are hips and knees.
In knee replacement, damaged areas of thighbone,
shinbone and kneecap are removed and replaced
4
W W W. M E D I C A L C E N T E R O F M C K I N N E Y. C O M
|
F A L L 2 0 1 5