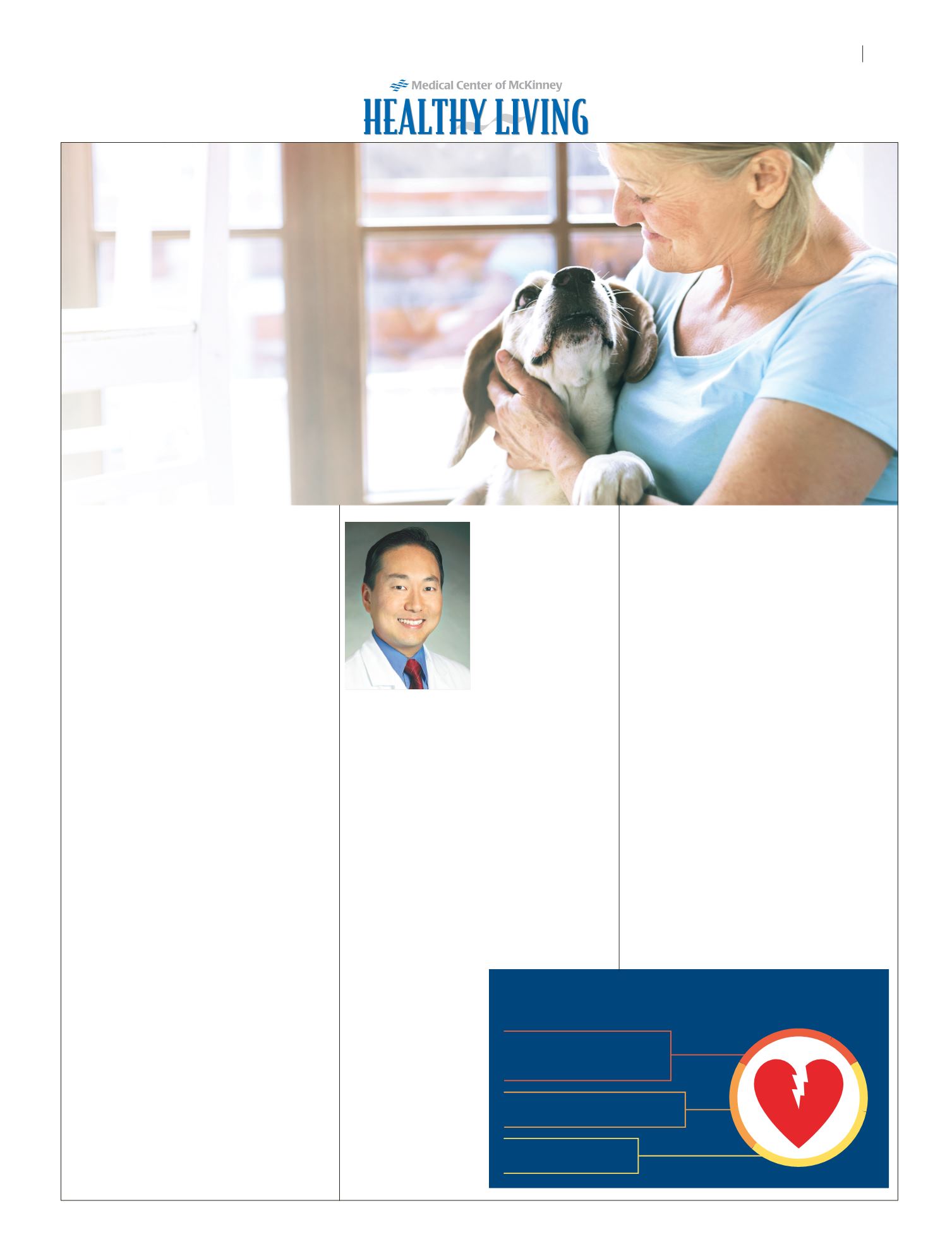 NEARLY 5.8 MILLION
people in the United States have
heart failure (HF), a condition in which the heart cannot
pump enough blood to meet the body's needs. HF is the
primary reason for more than 1 million hospitalizations
annually—and 25 percent of HF patients who are dis-
charged from the hospital are readmitted within onemonth.
BETTER TRACKING MEANS BETTER PREVENTION
The
CardioMEMS HF System, approved by the U.S. Food
and Drug Administration in May 2014, is the first per-
manently implantable wireless system designed to pro-
vide pulmonary artery (PA) measurements. (The PA is
the blood vessel that moves blood from the heart to the
lungs.) The system uses a miniaturized, wireless moni-
toring sensor that is implanted in the patient's PA during
a minimally invasive procedure to directly measure PA
pressure. The system is used by patients in their homes
or other remote locations to provide specific PA pressure
measurements—while patients live their everyday lives
in the comfort of their own homes.
The PA pressure data are then reviewed remotely by
physicians—who can make decisions regarding the sta-
tus of the patient and, if necessary, initiate changes in
medical therapy, with the goal of reducing hospitaliza-
tion due to HF.
The CardioMEMS HF system consists of three parts:
● 
●
An implantable sensor is permanently placed in the
PA. The PA sensor, which requires no batteries or wires,
is about the size of small paper clip and has a thin, curved
wire at each end.
● 
●
The delivery system is a long, thin, flexible tube (cathe-
ter) that moves through the blood vessels and is designed
to release the implantable sensor in the far end of the PA.
● 
●
The Patient Electronics System includes an electronics
unit, antenna and a specially designed pillow. Together,
the components of the Patient Electronics System read
the PA pressure measurements from the sensor wirelessly
and then transmit the information to the doctor. (The
antenna is paddle-shaped and is pre-assembled inside
a pillow to make it easier and more comfortable for the
patient to take readings.)
HIGH MARKS AT MCM
Cardiac electrophysiologist
Dale Yoo, MD, implanted Medical Center of McKinney's
(MCM) first CardioMEMS
HF device earlier this year.
"For the millions of peo-
ple affected by heart failure,
the CardioMEMs HF system
could literally be a game-
changer!" Dr. Yoo says. "The
goal of this first-of-its-kind
implantable wireless device
is to reduce heart failure-
related hospitalizations and
deaths. Measuring pressure
in the lung arteries in real
time allows us to proactively manage treatment for
patients with worsening heart failure before visible
symptoms, such as weight and blood pressure changes
or shortness of breath, occur."
As those affected know far too well, HF is often a
frustrating and stressful part of their daily lives. "A chal-
lenge these patients face is the sudden onslaught of heart
failure symptoms—they are suddenly retaining fluids;
their legs are swollen; their clothing and shoes don't fit;
they are short of breath, dizzy and feeling completely
miserable," Dr. Yoo says. "The great thing about the
CardioMEMS HF system is that it enables us to predict
if the condition is about to happen and stop it before
it actually does. This is huge in terms of improving the
quality of life and overall mortality rate for heart failure
patients!"
And here's another
great thing about the
CardioMEMS HF System:
"The placement of this
amazing device is mini-
mally invasive and in no
way entails a surgical in-
cision through the chest
wall or anything close to
open heart surgery," Dr.
Yoo says. "In fact, it is
a 15- to 20-minute pro-
cedure, and patients are
back at home the same
day."
HOMEWORK IS A BREEZE
Once an HF patient has been
implanted with the wireless device and has the Car-
dioMEMS HF system at home, the process is surprisingly
simple, consisting of a few easy-to-follow steps.
At home, the patient uses a portable electronic unit
and a special pillow containing an antenna to take daily
sensor readings. This is an easy, painless process that
takes only a few minutes. The external unit transmits the
readings to a secure website where the data can be seen
by the patient's clinician.
"In most cases, patients take readings from home (or
from other nonclinical locations) daily or every couple
of days," Dr. Yoo says. "After analyzing the information,
we may decide to make medication changes to help treat
the patient's heart failure."
LESS HOSPITALIZATIONS—MORE QUALITY OF LIFE!
There's no question: Access to PA pressure data provides
doctors with another way to better manage a patient's
HF and potentially reduce HF-related hospitalizations.
Just ask Dr. Yoo.
"It's been fantastic!" he says. "Here at Medical Center
of McKinney alone, heart failure patients have avoided
multiple hospitalizations due to the CardioMEMs HF
system. I'd like every person who suffers from heart
failure to know about the CardioMEMS HF system. Not
only will it prevent multiple hospital admissions, it will
save many lives."
MEDICAL CENTER OF
MCKINNEY OFFERS
CARDIOMEMS HEART
FAILURE SYSTEM
Dale Yoo, MD
HEART ATTACK:
Know the warning signs
If you see these in yourself or someone else, don't wait.
CALL 911
.
Chest pain, pressure, fullness or
squeezing that lasts more than a
few minutes or comes and goes
Pain in the arms, shoulder,
back, neck, jaw or stomach
Source: American Heart Association
Sudden lightheadedness, shortness
of breath, nausea or cold sweat
H E A L T H Y
L I V I N G
F A L L 2 0 1 5 | W W W. M E D I C A L C E N T E R O F M C K I N N E Y . C O M
3